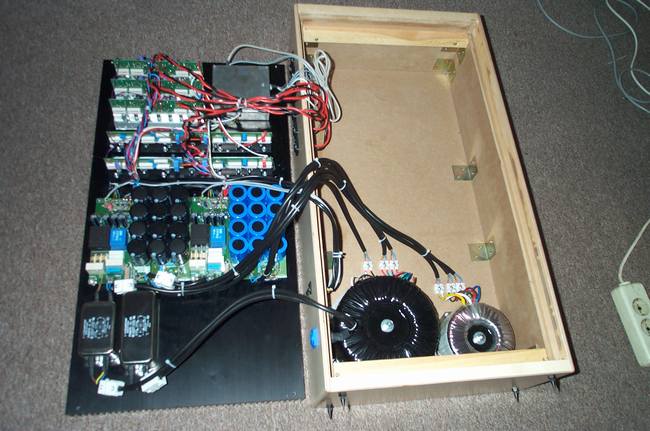 Some comments and description from Markus:
The project is a 5-way system, therefore two DCN's were needed this makes the handling a little bit more difficult...a little bit.

It is very easy to do some modifications in seconds, using the DCNs is really great. Sometimes it is nearly too flexible - because it is so easy to change parameters.
At the moment I'm doing some tests with different setups. Your comments are very helpful to do this, but my last procedure was nearly done the same way!


The 1m measurements I've done by changing the position to the tweeter and midrange speaker. The problem at this speaker is the size and the big distance between the different speakers (about 22cm each). To solve this problem the speaker is build in different single cubes. I regulate the angle of tweeter and midrange-cubes with the mounted spikes to get nearly one point at listening position.
The frequency range is partitioned high-tweeter, high-midrange, low-midrange and two steps of bass. At the moment the bass cube on top works from very low frequencies to the midrange-speaker, the cube below is working only at very deep frequency (driven parallel to the top cube) with a small bass boost to go to 20Hz.
The sound "flows" really free in the air, it is nearly incredible that it comes from the speakers.