Upgrade at high speed...
No - its not an upgrade to a car stereo installation
- this gallery shows how to activate a High End designer loudspeaker like the
TAG McLaren F1 AvantGarde
The upgrade is based upon the Ground Sound Active Solution
Each mono block uses: 1 pc DCN24, 2 pcs PA1CC, 2 pcs PA3CC, 1 pc PSU8SA and 1 pc TR600VA.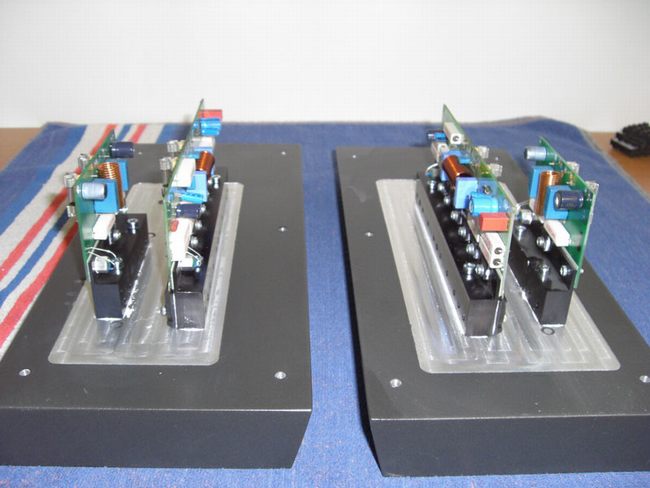 Two "Cylinder Heads" for one "Engine" with asymmetric valve placement for better stability and higher performance !
More valves = more spark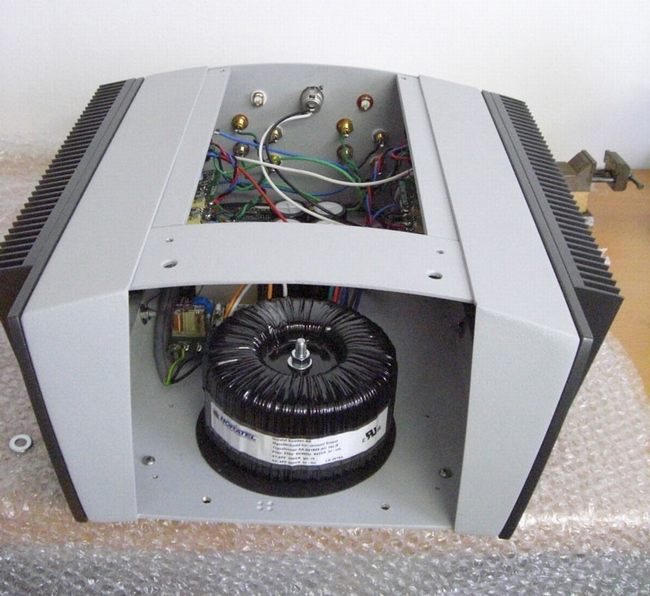 This is indeed a unique design and the inspiration is obvious
after you have seen this design from more than one angle

Simply a very cool and elegant design - thumbs up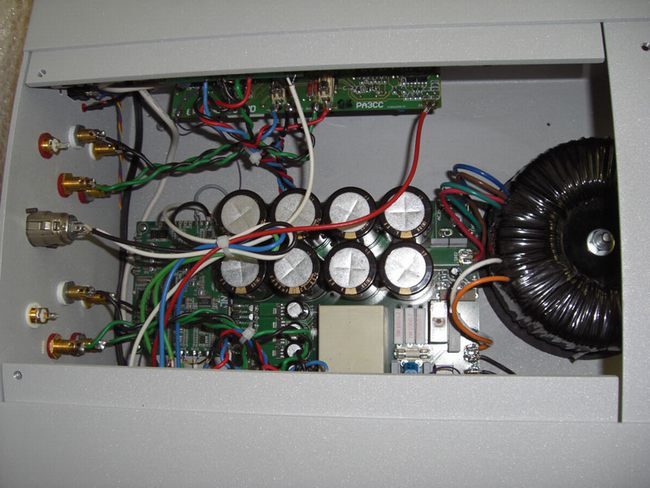 An overview from the top of the engine block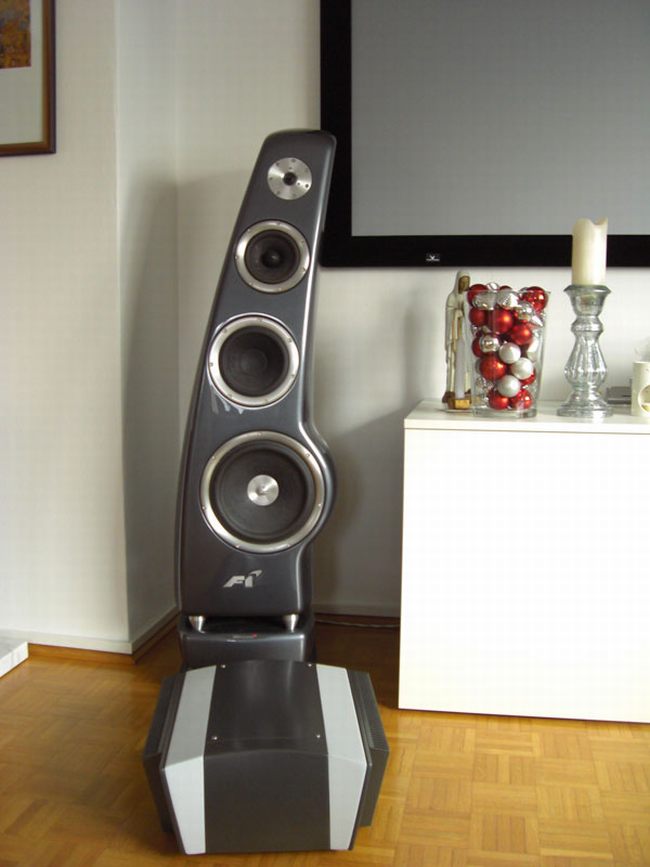 The final setup - The Ground Sound engine and TAG McLaren wheels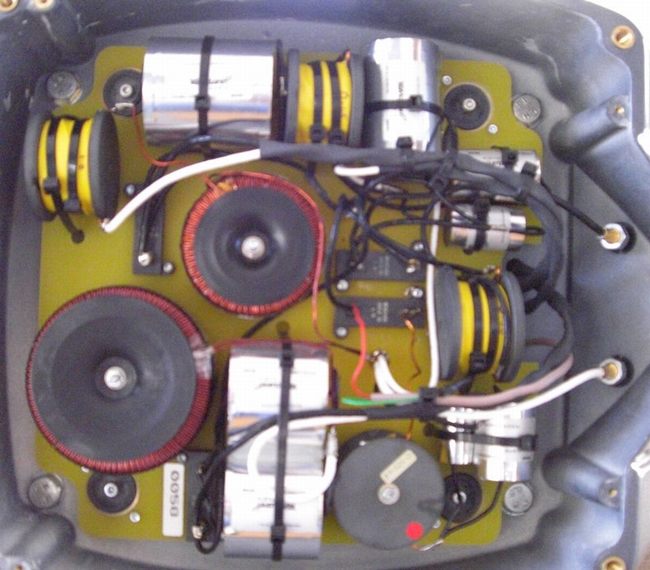 A view to the passive before the active upgrade
Papst Michael:

"I own a set of Tag Mclaren F1 Avantgarde - it's one of the best passive speakers I have ever heard !
But one thing was not so good .... The crossover of the "upper bass" .... In my opinion."
"The passive crossover was set this way:
Tweeter: 40000 - 4200 Hz (high bass 3rd order) - Vifa XT19
Mid Range: 4200 - 700 Hz (band bass 4th/ 1st order) - 150mm Scan Speak
Upper Bass: 810 - 37 Hz (low pass 3rd order) - 180mm Scan Speak - in bass reflex cabinet
Bass: 180 - 20 Hz (low pass 2nd order) - 250mm Scan Speak - in bass reflex cabinet"
"After measurement I create a new crossover setup for the active digital filter:
Tweeter: 40000 - 3500 Hz (hb 24db)
Mid Range: 3500 - 750 Hz (hp and lp 24db L/R)
Upper Bass: 800 - 150 Hz (hp 24db L/R - lp 24db bw) - closed cabinet
Bass: 150 (lp 12db L/R)
"The effect is that the upper bass plays more dynamic and clear. So listening on high SPL-level with fast dynamic music is no more limited by the upper bass. I would test more cross over setups in the future. Especially the pairing of the bass drivers can be more fitted. For the first setup it is fine and the clear holographic feeling with light sound is a benefit between the cabinet, drivers and your electronic."
"The chassis is custom-made by my brother and was designed as amp for the F1 (the idea was a amp prototype of TAG McLaren)."
"In the future I hope I have time to do more projects with your electronic.
It is easy to use and plays on a very high level."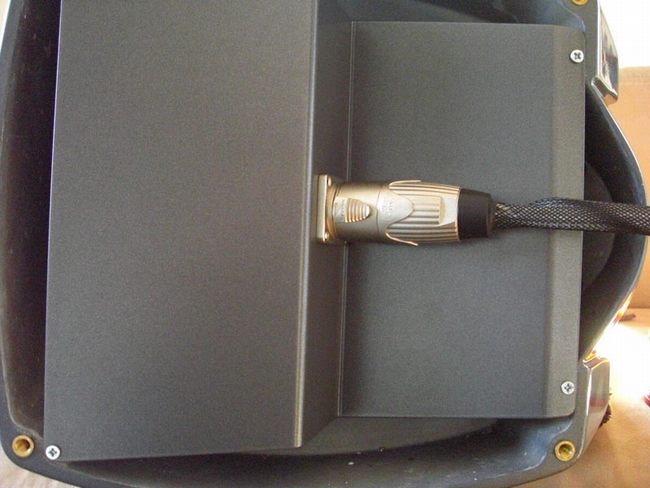 The new connection of the active amplifier - Neutrik STX SpeakOn 8-pol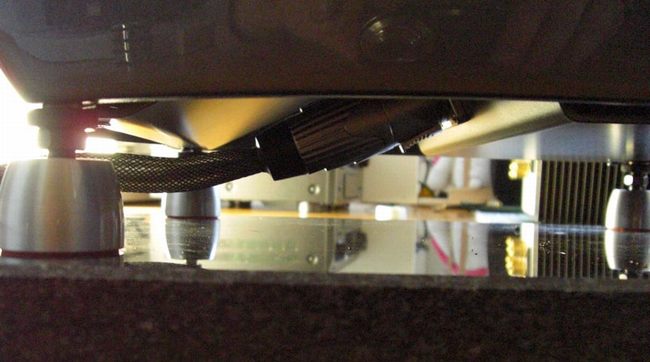 A street view of the connection cable
I (Robert GS) have to say this is indeed an excellent example of activating a High End passive loudspeaker with
great result !