NEW Product
Digital Crossover Module - 1 input & 4 outputs

DCN14 is a high performance digital crossover filter with equalization and delay. It features one balanced analogue input and 4 single-ended analogue outputs. The usage of a high performance Texas Instruments converters give DCN14 crystal clear sound and low noise floor. The sample rate is 96 kHz to extend bandwidth and have low order analogue low pass output filtering. The resolution of converters is 24 bit and the internal signal processor resolution is 76 bit. The signal processor will be configured as 4 output channels of 40 IIR filters each and the input channel with 20 IIR filters for equalization. There is a switch input selection of two presets with the 2 x 20 IIR filters in the input processing block. DCN14 is designed to be implemented as a digital crossover front-end in an active "plate amplifier". DCN14 has an optical isolated USB programming interface to avoid hum and noise from the PC.
DCN14 is powered from several separate unregulated supplies from PSU8AGS. DCN14 has onboard regulators for each part of the circuitry to minimize disturbance between different circuitry. DCN14 and PSU8AGS are highly integrated and require each other to operate
The muting of the Ground Sound power amplifier modules is done via an opto-coupler.

The XOverWizard II software is a graphical tool to manipulate with input, outputs, gain, crossover frequencies, crossover slopes, equalization and delay. The software has a very significant feature: The ability to import a text file containing measured driver data of frequency, sound pressure level and phase. With these data the XOverWizard II software are able to display frequency response and more, while design are in progress. Compared to this method the "old" trial and error method seems obsolete. The software comes in two versions: A standard version as described above and an advanced version which include measurement system and optimizer. See more details at the XOverWizard II page.

Specifications:
Resolution 24bit
Sample rate 96kHz
Total processing power: 180 biquads
S/N-ratio: >110dB
1 balanced analogue inputs
2 single-ended outputs
Max. input voltage 8Vpp - 0dB
Frequency response: 5-48kHz (-3dB)
Latency input-output about 1ms
Optical isolated USB interface
Max. output voltage 12Vpp - 0dB
Designed for use in the Active Ground Sound concept
2 presets for easy adaption to application
Mute control for Ground Sound amplifier modules
Power supply from PSU8AGS
Weight: app. ?g
Overall dimensions: 130mm x 96mm x 52mm
This is how the Processing Block Schematic looks like in the XOverWizard II software: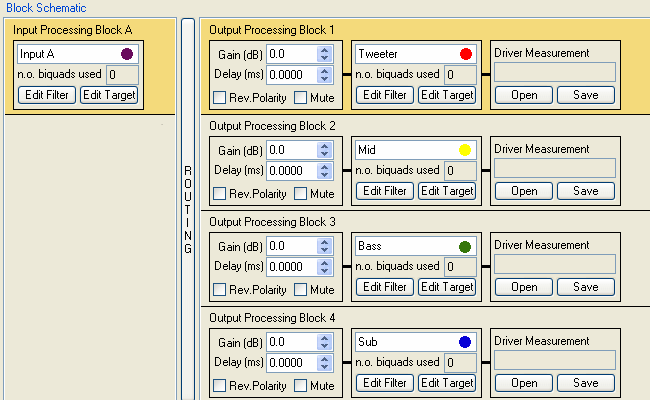 Note: The colour dots are not included in the software - only on the picture for explanations